FLIR Announces its First Thermal Camera for Automotive Applications: the FLIR TG275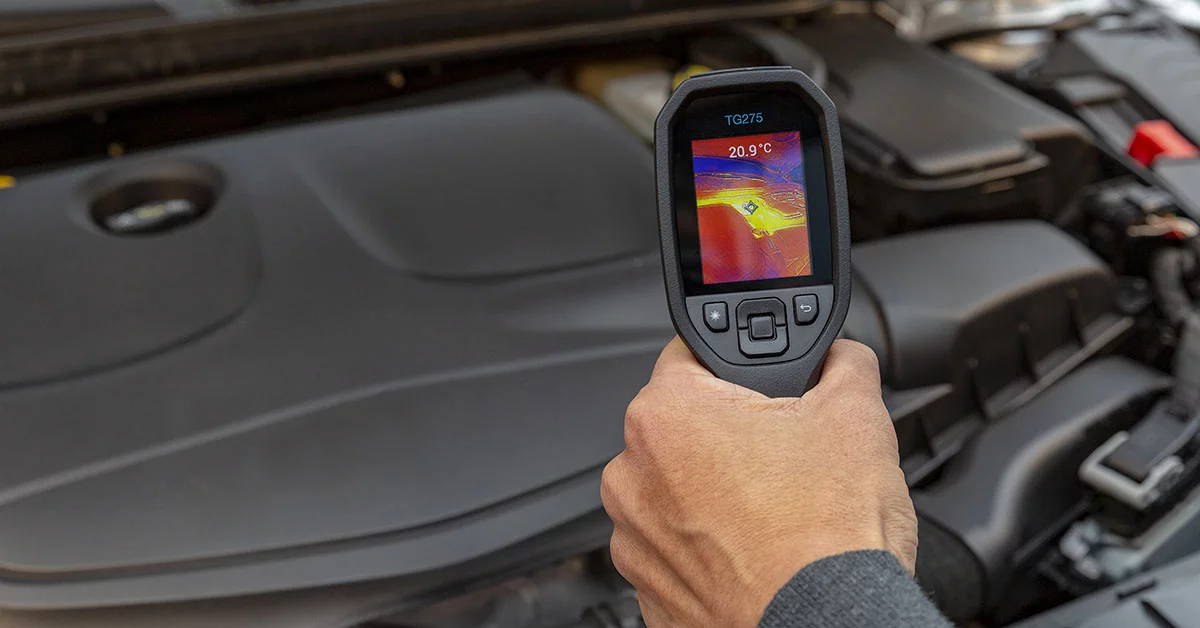 First Dedicated Thermal Troubleshooting Camera Tool from FLIR for Automotive Technicians and Home Mechanics Dramatically Reduces Diagnostic Time
---
WILSONVILLE, Ore., January 7, 2019 – FLIR Systems, Inc. (NASDAQ: FLIR) today announced the FLIR TG275, a handheld thermal camera that combines measurement and infrared (IR) capabilities into one troubleshooting tool for automotive use. The TG275 takes automotive repair and fleet maintenance technicians beyond the limitations of single-spot IR thermometers by allowing them to quickly see hot and cold spots that can indicate potentially serious issues. This is the first thermal camera from FLIR specifically designed to help automotive technicians find hidden problems fast and dramatically cut diagnostic time, whether the issue is under the hood, in the cabin, or on the vehicle.
Built around a true thermal 160×120 camera sensor (19,200 pixels), the new FLIR TG275 lets technicians see vehicles in a whole new way. This powerful camera measures temperatures from -25 to 550 degrees Celsius (-13 to 1022 degrees Fahrenheit), allowing users to quickly inspect air conditioning, hot exhaust, brake rotors, axle bearings, turbo chargers, differentials, coolant system, electrical components, and battery systems for electric vehicles. The TG275 is the only spot thermal camera equipped with FLIR Multi-Spectral Dynamic Imaging (MSX®). This patented, two-camera technology extracts high-contrast details from the images taken by an onboard visible light camera and superimposes them onto the thermal images, creating a sharper, easier-to-understand picture. Users can then easily store those images to reassure customers that a problem was fixed.
FLIR engineered the rugged TG275 to endure professional environments, whether it's tasked with checking diesel truck engines or the hydraulic systems on construction equipment. The IP54 enclosure provides a high level of protection against dust and water. The TG275 also includes an LED light and laser pointer, which helps guide temperature measurements by indicating the size and area of the surface being measured. Other useful features include Bluetooth® Low Energy (BLE) wireless technology to easily move images to a mobile device; professional reporting with FLIR Tools®; adjustable emissivity levels; and real-time temperature updates. Also, the portable TG275 has a rechargeable battery and expandable memory.
For more information about the FLIR TG275, please get in touch. 
---